When someone says off-road SUV then some names come to our mind. When someone says good design SUV, again some names come in our mind. And when someone says luxurious SUV then some other names come to our mind.
But what if I say here is one SUV which offers you great off-road capabilities with one of the best design and is luxurious too.
YES you guessed it correctly!
I am talking about the new Land Rover Defender 2021.
Defender SUV is renowned in world for its off road potential. This is the reason it has a huge list of lovers. This New SUV also has some best in class features and has iconic design.
Who were waiting for new Defender in India, for them time is over now. Company is ready to sell it in India. So let's see about it…
Land Rover Defender 2021 Design
Exterior of Defender
Design of new Defender is far better than its previous version. This time also it has box type design with right proportions. Even it looks modern but at the same time it has managed to keep ruggedness. And it is important because it is known for it. You can say it is the muscular design SUV with very different unique looks.
When you see its front first thing you will notice is its Headlight. Design of headlight is Awesome and you can get premium headlights in its higher trim. First Edition and HSE trim of both body types comes with Matrix LED headlight with signature DRL. This looks amazing.
Headlight comes in combination of circular and square shape where has tail lights are also in square shape which looks very interesting. You can see it on Photos.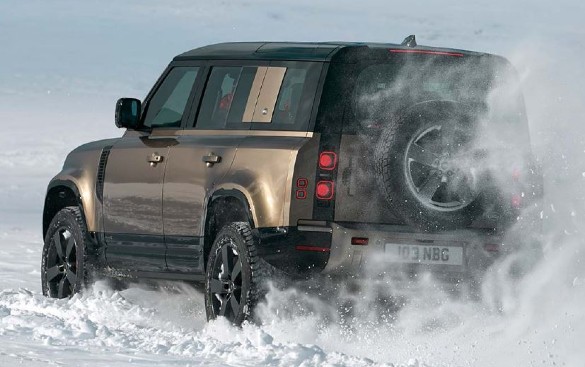 In back it gets side mounted tail gate. And spare wheel attached to the door. Wheels are of 18 to 20 inches depends on which version you are buying.
Interior of Land Rover Defender
It is available in 90 and 110 body type. 110 is the 5 Door body having 5+2 seating capacity whereas 90 is the 3Door body having 5 seating capacity.
In addition to this you can add one jump seat on front row of both models this will increase one more seat. You can do this by opting without center console model. One more advantage of this model is you can walk through one side to another side.
If I talk about interior so it is totally change from its predecessor because here you get so many modern features. You get 10 inch pivi pro touch screen infotainment system with Apple car play and Android auto. Instrument cluster looks awesome and gives you different-different important information's.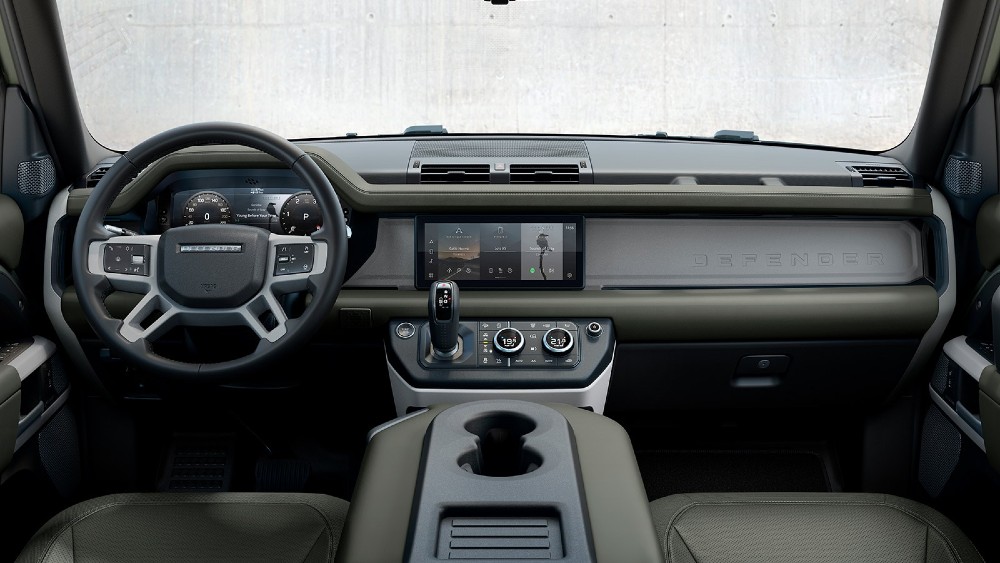 In this SUV you get important features like meridian sound system, sunroof, cruise control, Auto dimming IRVM, heated and cooled front seats etc. Other controls are present on steering wheel. To maintain ruggedness of Vehicle Land Rover has provided so many grab handles and open fasteners in side of SUV. You can see it in photo.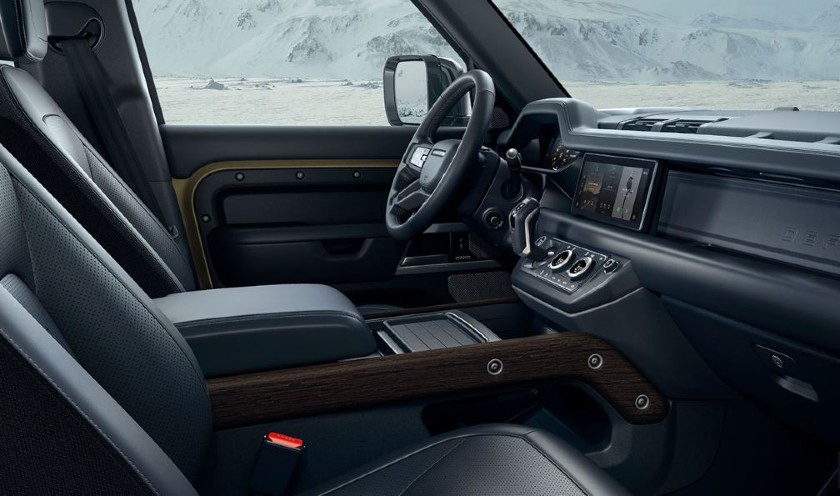 All the doors have keyless entry. One thing I really like is that company has placed so many cameras at important positions. You can watch below the SUV through this camera while driving. It helps in to do off road.
Through these cameras you also get 360 parking aid and 3D view of surrounding.
Dimensions
Defender 110 – this SUV has a length of 5018 mm, width of 2008 mm when mirror folded and height of —- mm. some other specification are-
Approach angle – 38degree
Ramp angle – 28degree
Departure angle – 40degree
Obstacle clearance – 291 mm (off road)
Maximum wading depth – 900 mm
Defender 90 – this SUV has a length of 4583 mm, width of 2008 mm when mirror folded and height of —- mm. some other specification are-
Approach angle – 38degree
Ramp angle – 31degree
Departure angle – 40degree
Obstacle clearance – 291 mm (off road)
Maximum wading depth – 900 mm
Land Rover Defender Variants
As I mentioned earlier this powerful SUV available in two body designs such as 110 and 90. Both are designed available in 5 variants these are defender, S, SE, HSE, and first edition. Hence you have total of 10 options to choose this beautiful machine.
Land Rover Defender Engine
In India, it is launched with only one petrol engine option whereas in some other countries it is launched in other options as well. But we can expect it in India also in the future.
For India it is available in 2.0 L Petrol engine which generates power of 300 PS and torque of 400 NM. It is equipped with 8 speed automatic gearbox which sends power to all four wheels and makes it 4WD SUV.
This SUV takes you 0 to 100 km/h in 8 Sec. and has a maximum speed of 191km/h.
Architecture and suspension system
Earlier land rover used to make Defender SUV on 'body on frame' design. But this new Land rover is based on Monocoque Architecture. Company claims, by doing this torsional rigidity has increased up to three times. And it is the toughest and strongest till now.
It gets double wishbone at front and the advanced multi link rear suspension. For more comfortable ride it gets Electronic Air Suspension.
You can select different ride height according to terrain. These options are 40 mm below normal, 75 mm above normal and more 70 mm above normal height for extreme off road conditions.
Features for Off Road Capabilities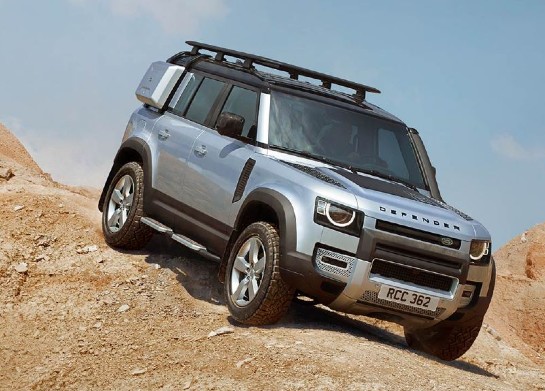 New Land Rover Defender is truly capable of extreme off road conditions. It is All Wheel Drive setup combines with Electronic Traction Control (ETC) and Twin Speed transfer box.
For better Traction it is fitted with Electronic Active Differential. It allows you effortless driving whether it is on road or off road and also in Ice, Snow and Rain.
This is also equipped with Adaptive dynamics, Terrain response, optional Terrain response 2, Hill descent control and all terrain progress control (ATPC).
Read here – Kia Sonet SUV features
Head up Display (awesome feature)
It is very interesting feature of this car. By this you can see important data including speed position, navigation direction and speed on the Wind Screen. The graphics are very clear you can read easily while driving. It also shows off road information's such as camber and incline angle.
Defender 2020 Color Options
This will not be easy for you to choose best color. Because this comes in so many color options and each color looks absolutely amazing. Defender Color options are – Indus Silver, Pangea Green, Tasman Blue, Fuji White, Eiger Grey, Santorini Black. You can also configure your own favorite color option.
Also read – Tata Altroz review.
Customize Your Defender
Out of these 10 variants even if you think this will not be sufficient for you. Then you can choose SUV from four accessory packs such as- Explorer pack, Adventure pack, Country pack and Urban pack.
Which Pack is your favorite? let me know in the comment section below.
Defender Price
Land Rover Defender 2020 Price in India starts from 73.98 Lakh and goes up to 89.63 Lakh( ex showroom).
Competitor
Land Rover defender has no Competitor in India at this price point. Some people say Jeep Wrangler will compete with this. But I think wrangler can compete only in off road capabilities. In other aspects like design and features this cannot compete with Defender. And price of wrangler is also less than it.
Also read- Tata Gravitas SUV.
If you have any question or suggestion for us you can write it in the comment section below.