TVS Ntorq 125 is the 3-valve 125cc engine scooter generating the power 9.25 bhp and torque of 10.5nm. The main target of this powerful and stylish scooter is youngster of India. In BS4 model some features were missing but this BS6 edition is loaded with a lot of new features.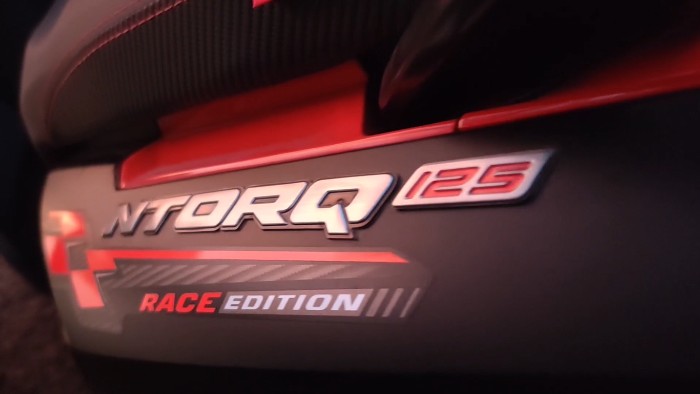 In this blog I will discuss TVS Ntorq 125 pros & cons and will compare it with its direct rival Aprilia SR 125. So let's figure out, will it be able to convince buyers to buy this scooter ?
Pros of TVS Ntorq 125
Looks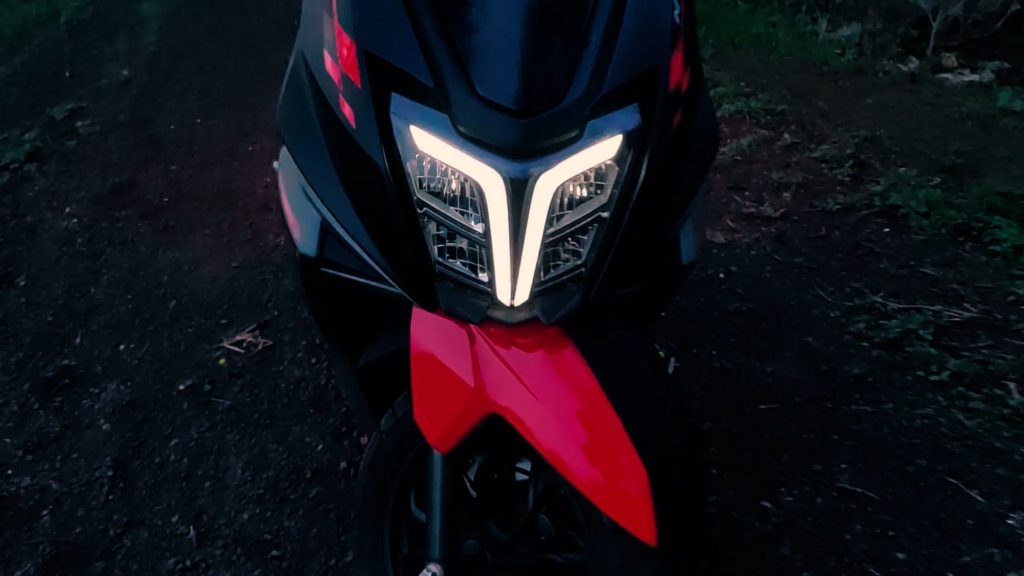 In terms of looks it is one of the best scooter and it is so attractive. Use of matte finish and glossy paint in the scooter is done so beautifully because of this it truly stand out in its segment and also graphics of the scooter is very good. You also get 3D badge of Ntorq in side of the scooter.
In front you get day time running light and in rear you get stylish t shape taillight. Rear indicators are separated from rear lamp which increase its sportiness and gives something bike like look. This design really attracts youngsters.
As compare to SR 125 its looks are more futuristic and dynamic whereas SR 125 looks are average.
Bluetooth Connectivity
This is the India's first Bluetooth connected scooter. Which offers you features like navigation assistance, notification of phone on the digital console. Mobile notifications such as incoming call alert, SMS alert, missed call alert and battery strength etc. can be seen on console.
Here you also get last park location assistance. Company says it comes with total 60 connected features.
Ride Quality And Sound of TVS Ntorq
We got this scooter for review and also we have driven the scooter. We found that this scooter performs very well. When you drive it you will feel power and pickup never goes from your hand and it also offers smooth ride because of its good suspension system. Multi mode is also available like street and sport to enhance your ride.
One thing about this scooter is so interesting and that is the sound of scooter. Its Sound is really like a bike, when you listen only sound of scooter without looking at vehicle you can't believe that this sound is of scooter. We can say sound of scooter is best in its segment. And this credit goes to TVS Engineers who have the expertise in this.
Top Speed
TVS Ntorq goes up to 95 km/hr which is good as a 125cc scooter and 0 to 60 in 9 seconds. Some people will say that SR 125 can go beyond 115 km/hr, but in that we have noticed that there is fault in its meter..
YES !
When we drove SR 125 and TVS Apache side by side, we found that when TVS Apache was showing 95-96 km/hr. At the same time SR 125 was giving 120 km/hr reading. So we are not sure about Aprilia SR 125 top speed once we get it for proper detailed review.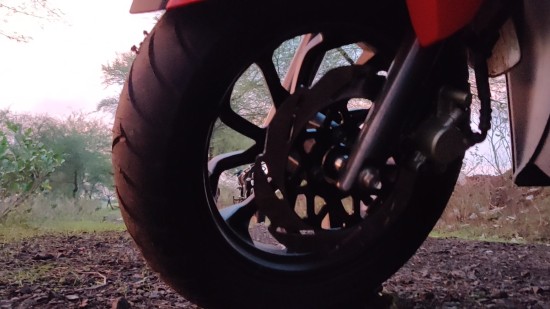 Service And Parts Availability
As we all know in terms of service and parts availability TVS is one of the best company in India, so with Ntorq 125 also you will not face any problem in it. But with Aprilia SR 125 this problem is there.
Digital Meter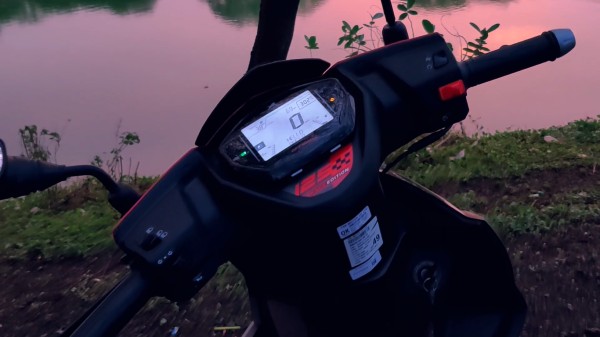 In this scooter you get fully digital console which shows you all the information digitally. I can say this is best in its segment and even we don't see this type of digital console in some of high end bikes.
Also Read – New Land Rover Defender.
Large Boot Space
This scooter comes with large under seat storage that is of 22 liter and also gets a boot light & USB charger.
Read here- Tata Gravitas SUV.
Cons of TVS Ntorq 125
4 in 1 Switch is missing
Since in the market there is long list of scooters available with 4 in 1 switch. We were also expecting it in the Ntorq BS6 but this time also company little bit disappoints us.
Who don't know what 4 in 1 switch is, for them it is one main switch from that you can lock unlock your scooter, start-stop, open under seat storage and can open the lid of fuel tank.
Fiber body
This scooter comes with fiber body which may be issue with some people who want to buy metal body scooter.
But you should remember that most of the stylish scooters come with fiber body. Because it is easy to mould it into different stylish and some critical shapes.
Also read- Wagon R vs Tiago vs Santro.
Mileage Concerned
As we know it is one of the most power generating scoter in its segment in India so we can not expect high mileage from it.
But when we compare it to Aprilia SR 125, Ntorq gives more mileage than it. If you are looking for a scooter which can give you good combination of power and mileage then TVS Ntorq BS6 is best in its segment.
Also read- Suzuki Access125 review.
TVS Ntorq 125 Race Edition
In race edition everything is same the only cosmetic changes are there. For it you have to pay more and I think if you can then you should buy race edition because it looks really good.
One major change which enhances its looks in large extent is the front T shape LED Headlamps. We have tested its visibility and it performs very well and also overall visibility & brightness increases with it. One more thing is upper and dipper function is doing more satisfactory job in this and also light is reaching all around.
When we see race edition it is clearly stand out with its competitors.
Read Here- Best Scooter in India 2020
You should buy TVS Ntorq 125 or not ?
If your main concerned is power then you can buy Aprilia SR 125 but there is not much difference in power between these two scooters.
But if you are looking for a powerful scooter with decent mileage then definitely TVS Ntorq 125 is a best pick. And also features offers by this scooter is class leading which makes this scooter a value for money scooter.
Is TVS Ntorq worth buying in 2021 ?
Many people ask this question to us. And our is Absolutely yes. Because still in 2021 Ntorq is one of the scooter in market which offers you balance of Power, Economy, good handling and looks. So we can say Ntorq is worth buying in 2021.
If you are Marvel fan then you will love the TVS Ntorq 125 Super Squad avengers edition. The color options you get in this edition are –
Invincible Red – Inspired by Iron Man.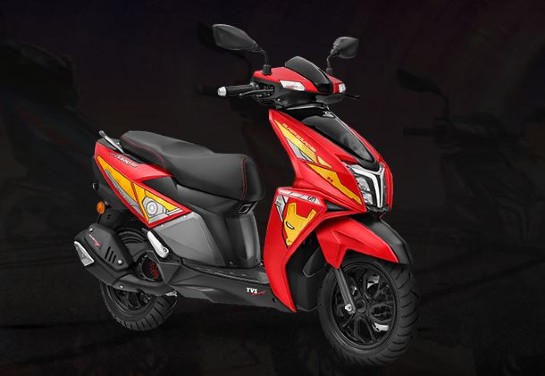 Combat Blue – Inspired by Captain America.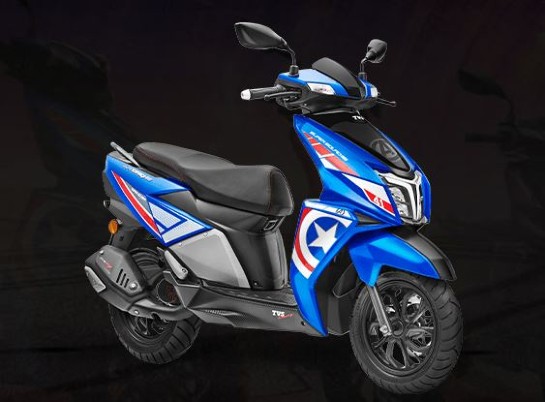 Stealth Black – Inspired by Black Panther.
Price of TVS Ntorq 125 Super Squad avengers edition is Rs2500 more than the Race edition price. And Price of Avenger edition at Delhi Ex-Showroom is Rs 79535.
Here One thing to Note is Super Squad edition only has cosmetic changes as compare to Race edition.
If you have any question or suggestion for us you can write it in the comment section below.
Read Here- Honda City 2020 Review